look who's talking


Whose Bike Are You Wearing?

- New York Times (USA), September 9, 2009
| | |
| --- | --- |
| - Elle Decor (Italy), August 2009 | While pedal pushers mount their $6,500 carbon fiber steeds for the Tour de France's mountain stages, you can sit pretty on a custom, sub $400 single-speed. Designed for practical joyrides, each Aristotle is built to your color specifications for the bike's nine main parts. - Men's Health (USA), July/August 2009 |
| | |
| --- | --- |
| December 17, 2010 | |
This season, bikes have shown up shown up in shoe stores, dress shops, in front of fancy hotels. And you can even buy a bike at CB2, the chic younger sibling of Crate and Barrel. There are two solid gray bikes with big yellow tires and bright red seats.
- Marketplace, June 9, 2011
This season's hottest new boutique hotel in Montauk, NY, the historic, formerly fleepy fishing village and surfer hangout that has been attracting and increasingly young and hip crowd, is reaching out to cyclists.

The first thing guests notice when they pull up the driveway at Ruschmeyer's, situated on three woodsy acres overlooking Fort Pond, is the bike rack with a custom fleet of unisex Dutch-style bicycles.

In tune with the hotel's laid-back retro vibe, Ruschmeyer's designer worked with Republic Bike to customize their Plato Dutch Step-thru bikes with cream frames and green tires. The Ruschmeyer's name appears on the caincases, and the hotel's anchor logo is stamped into the jumbo red bells.

Guests at the hotel, which opened amidst plenty of buzz over Memorial Day weekend, have been using the bikes to travel the half-mile ride to Montauk's pristine Atlantic Ocean beaches.
- Momentum Magazine,
July/August 2011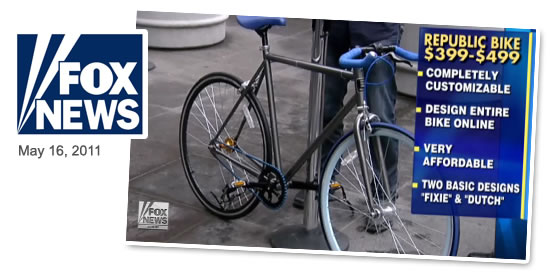 Who says your front tyre can't be yellow, while your back tyre is pink? Ever dreamed of having a blue bike frame with red handle grips and a white saddle? Republic can make this dream a reality.


- thecoolhunter.net (Australia)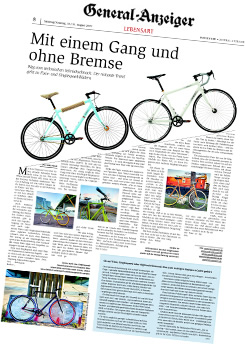 (Germany), August 16, 2009


Anything that you had a hand in designing is always cooler, continually rewarding and enjoyable. Republic Bike allows everyday consumers to take part in building a custom bike based on a shared design. Their Aristotle single-speed bicycle is a simple machine with clean lines and sensible outfitting. You decide what happens next in terms of design, by selecting its colors and components. Republic builds, boxes and ships your custom bike to your door.


- coolmaterial.com


Design a Bike at Urban Outfitters!


- Seventeen (USA), July 2009
| | |
| --- | --- |
| ENVY Magazine (USA), August 2009 | With their new online Bike Shop, they've gone above and beyond the call of Outfitting duty and given us the tools to build our dream bike. In what is probably their most technical undertaking yet, the site allows you to customize nearly every aspect: frame size, saddle, grips, chains, rims and tires. - Nylon (USA), July 2009 |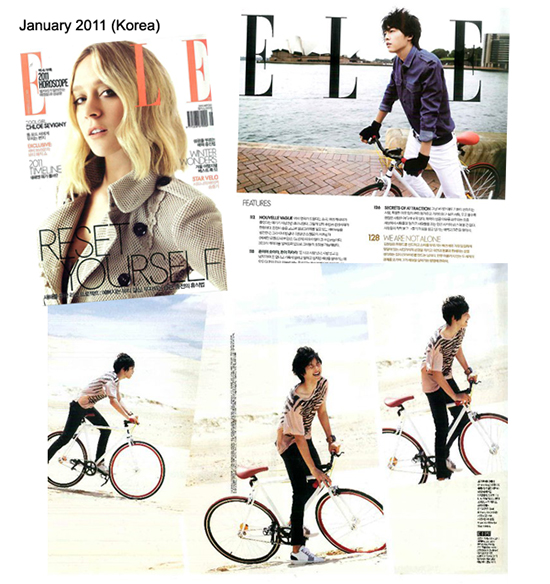 | | |
| --- | --- |
| | Urban Outfitters Holiday Catalog, December 2009 |


The Mark, a youthfully luxurious hotel on the Upper East Side, has commissioned Republic Bikes to fashion them a fleet of suitably fabulous steeds. The bikes incorporate elements of the 1920s hotel's lavish interior - overhauled three years ago by Jacques Grange, whose designs grace the interiors of some of the most fabulous hotels in the world - such as monochrome stripes on the chaincase, MARK1 licence plates and a monogrammed bell.

- Conde Nast Traveler, May 2012


Customize your very own bicycle frame, color, seat style, even down to the handle bars. Take your creativity for a ride! $399.

- BlackBook (USA), March 2010
A promotional video for "StarVelo: 27 & Bike in Sydney." StarVelo is a unique celebrity travelogue created by ELLE Magazine in Korea. In our Republic Bike segment, the actor Song Joong Ki travels around Sydney on his Aristotle.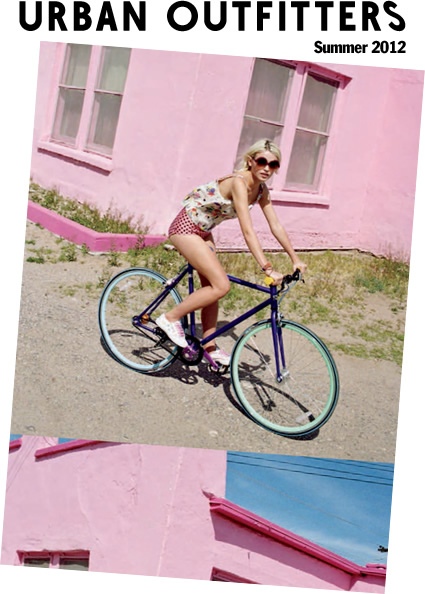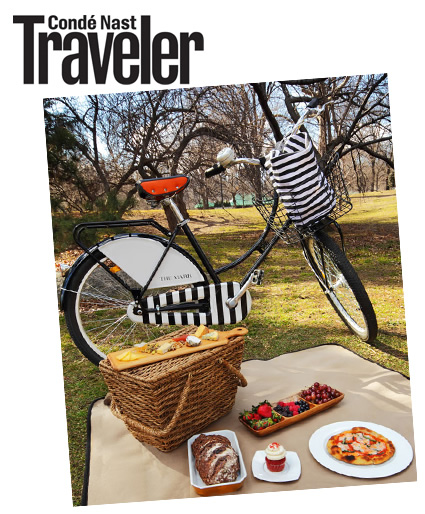 | | | |
| --- | --- | --- |
| | Get your (modern) move on. CB2 modern never stands still. This summer we're on the move with Dutch-style abuela/abuelo bikes developed in tandem with the spokes folks at Republic Bike in Miami. - CB2 (USA), Summer catalog 2011 | |